Are bathroom blinds easy to clean?
Our range of bathroom blinds and shutters are easy to clean and stand up to the practicalities of condensation and humidity you'd find in any bathroom, however well ventilated. And with the very latest looks and colour choices, there's no need to compromise on your bathroom style when choosing Luxaflex® bathroom blinds or shutters as they are made to measure for your home.
Your local Luxaflex ® retailer or Gallery can show you all options, but here are a few bathroom blind ideas to inspire you…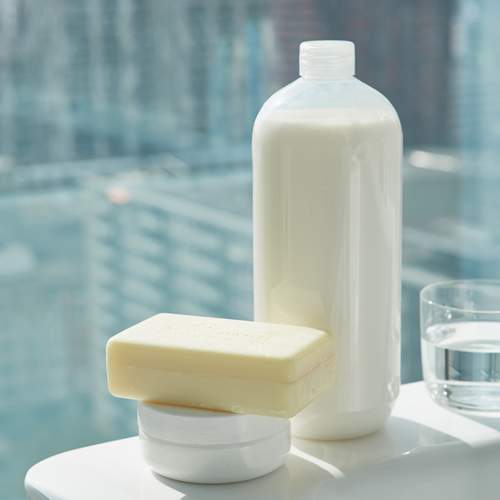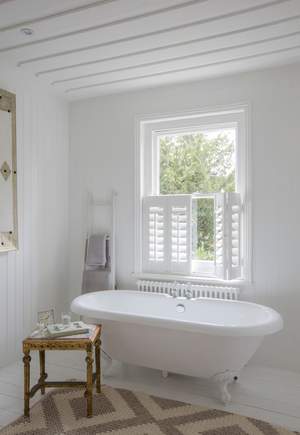 Bathroom Shutters
Are Shutters Water Resistant?

Stylish and water-resistant, Luxaflex® bathroom shutters should be your first choice for the bathroom. Easy to clean, child-safe, and most importantly, resist moisture so they won't fade, crack, or chip.
Choose from a range of shutters models to suit your bathroom needs, from the shape of your bathroom window to protecting your privacy or light control requirements.

For peace of mind, Luxaflex® water-resistant bathroom shutters come with a 20-year guarantee.
Inspiration Gallery Bathroom Blinds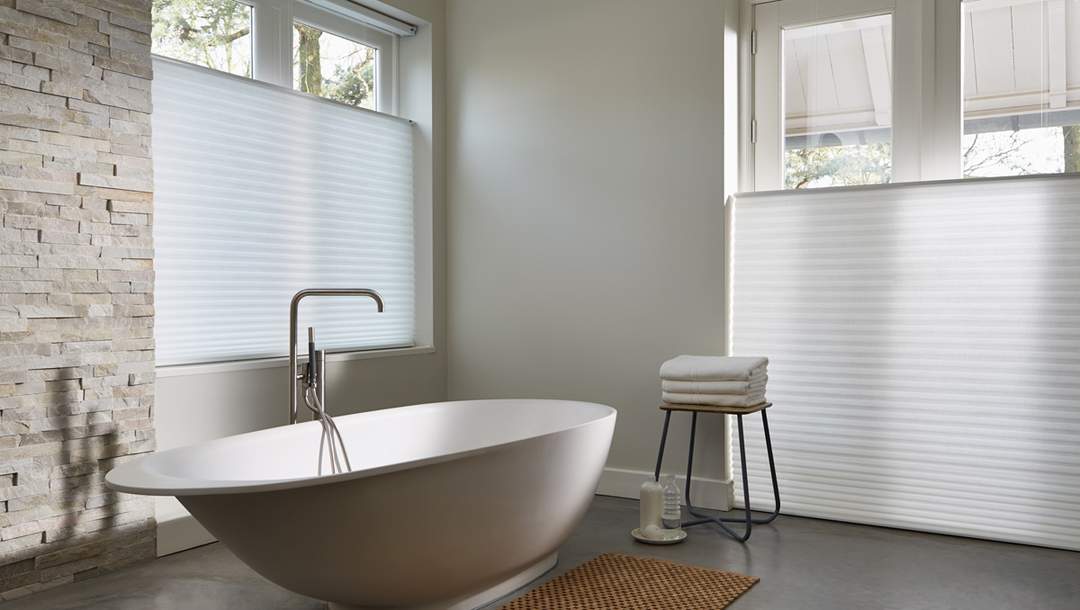 Bathroom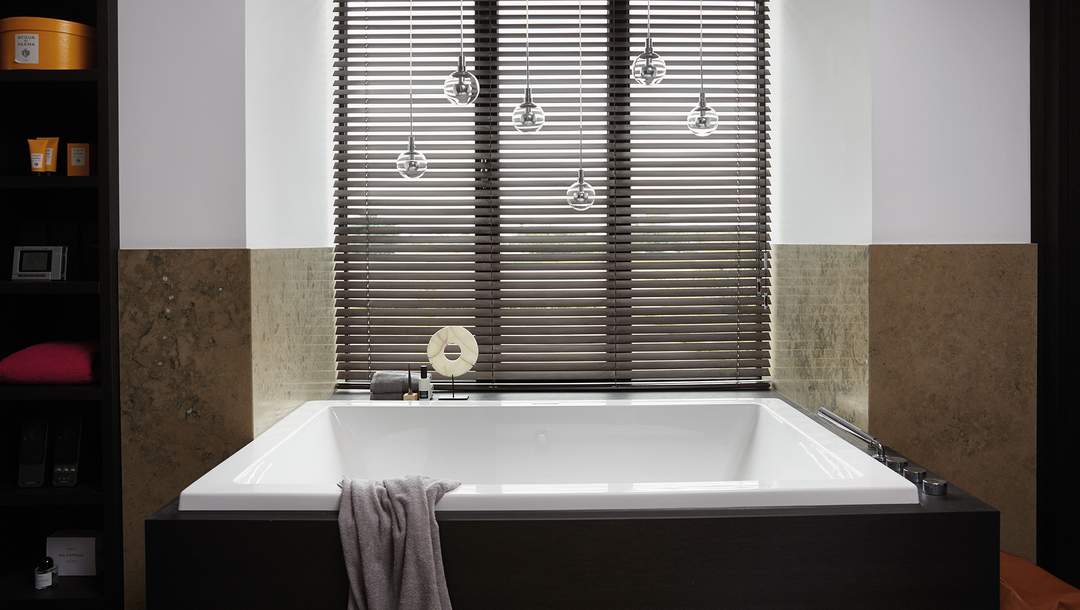 Bathroom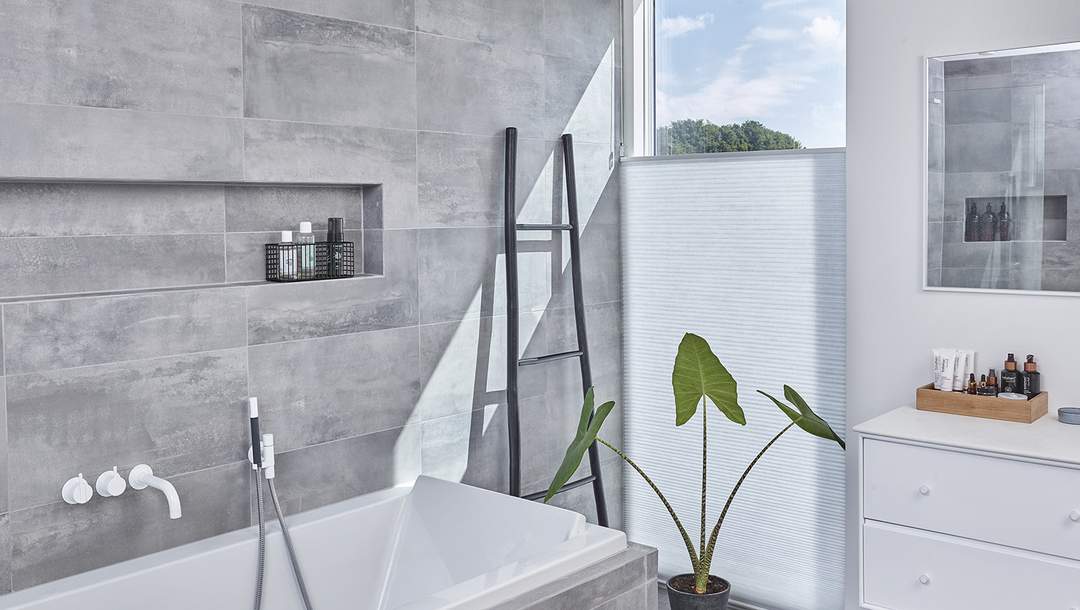 Bathroom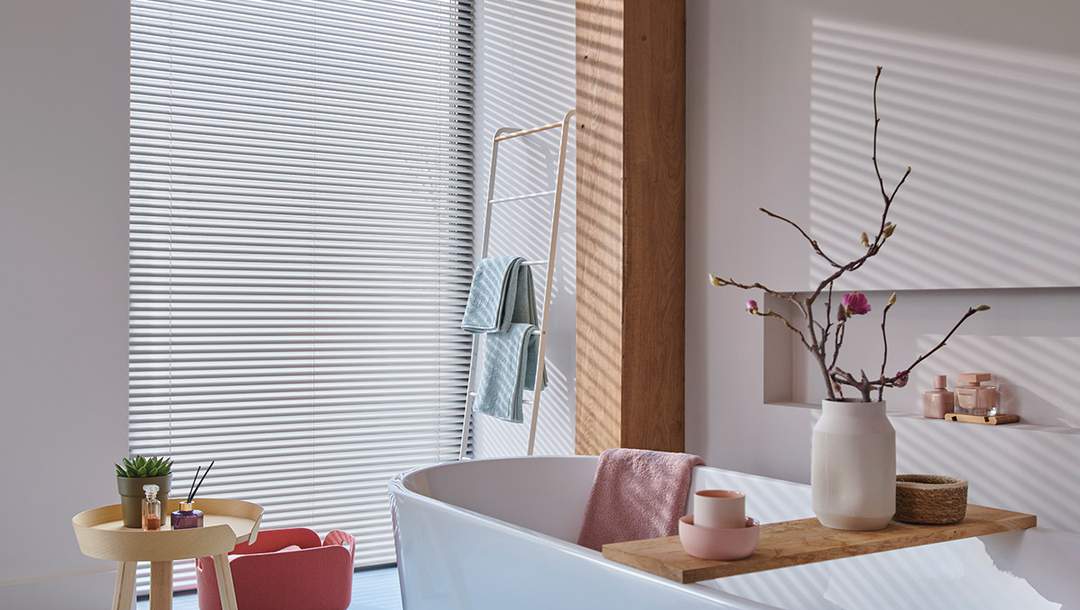 Bathroom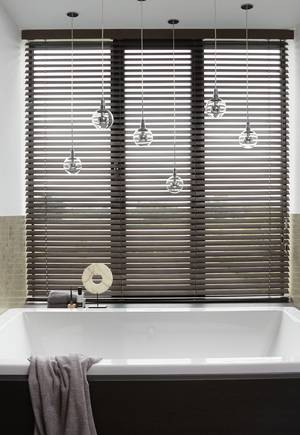 Luxaflex® Form Wood Bathroom Blinds
Can you use Wood Blinds in a bathroom?

Luxaflex® Form Wood Blinds features the natural warmth of a real wood blind with practical man-made materials that stand up to the daily rigour of bathroom humidity.
Easy to clean, water-resistant, and highly durable, custom-made Faux Wood Blinds come in inspiring looks and design options to blend beautifully with your bathroom décor.
Luxaflex® Designer Roller Blinds
Bathroom Roller Blinds - Designer Style
Super stylish and practical, our custom-made Roller Blinds come in an exclusive range of moisture-resistant and easy clean fabrics - ideal for bathrooms.
From sheer looks to room darkening fabrics, you'll find the latest colours and patterns for bathrooms. And the sleek, space-saving design of modern Luxaflex® Roller Blinds won't take away room for your bathroom accessories.
For extra-large bathroom windows or patio doors, choose our XL Roller Blind model to ensure the right level of privacy and light control just how you want it.
Find a Luxaflex® Showroom
Visit your local Luxaflex® retailer or Gallery to get expert advice and inspiration for the right blinds or shutters for your home.
Luxaflex® Duette® Shades - Bathroom Blinds
Can bathroom blinds help with energy saving?

Bathroom windows are no different from other windows in your home as you can still lose up to 50% of your home's heat through them. So if energy efficiency is important to you, consider our Duette® Shades to help cut heat loss in the bathroom.
The unique honeycomb design was invented by Luxaflex® to help keep your home cool in the summer - warm in the winter and insulated all year round. And our special fabrics are resistant to moisture in the air too.
Ask your local Luxaflex® retailer or Gallery to show you all the unique properties of Duette® Shades
Get Free Advice for Your Bathroom Blind & Shutters
To see our complete range of made-to-measure Bathroom Blinds and Shutters, book a free consultation with local Luxaflex® retailer and get expert advice and inspiration, on the right blinds or shutters for your bathroom.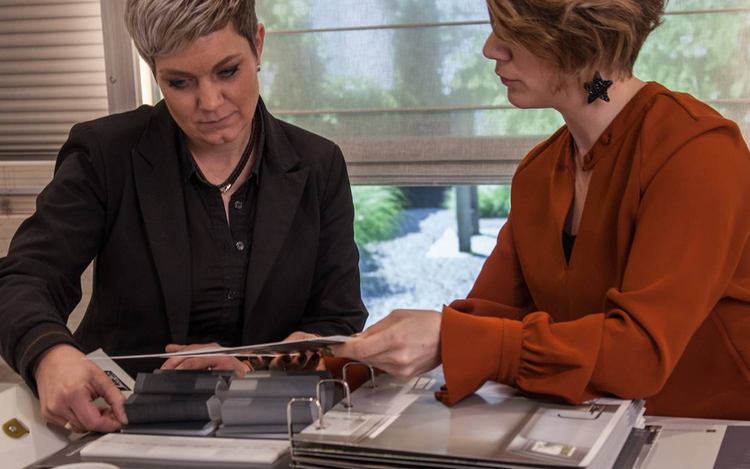 Bathroom Blinds